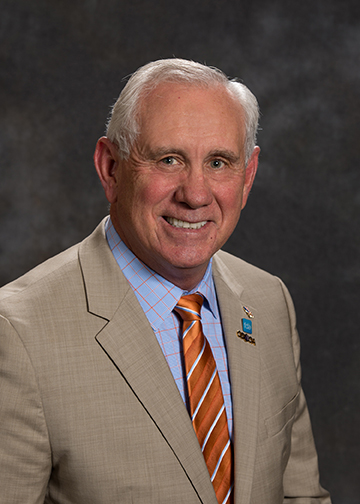 There's no easy way to break this news, on December 28, 2021, Dr. Leonard Britten transitioned peacefully to his heavenly home.
If you're surprised to learn this information it's because he never wanted us to feel bad or worry and chose not to dwell on it over the last 7 months while he was tackling the tenacious effects of stomach cancer. He pressed through it like he did anything in life- with down-to-earth grit and positivity.
Over 40 years ago, Leonard began one of his highest achievements- being an exceptional, yet modest, dentist for the very area he called home. Throughout those decades, he perfected a craft that combined his passion for dentistry with building relationships with his patients. Along the way, he was even lucky enough to welcome his son, Dr. Nicholas Britten, with open arms into the practice. The two of them became quite the entertaining dynamic and it just helped solidify the "family" feel that we will always strive to exude.
Working with him was a true pleasure. He was full of joy. He never missed an opportunity to share a joke and his laugh was infectiously jovial. He had a tender heart that spread compassion throughout his personal and professional experiences. His generosity had many forms- from volunteering his dental services to spoiling us with outings and goodies. He had the bluest eyes that could light up with a twinkle of mischief- that's when you could tell he was up to something!
We have the BEST patients and we understand there will be endless amounts of support pouring in. We would love to know how Leonard impacted your life! Leonard and Paula's oldest son, Matt, created a page on caringbridge.org/visit/leonardbritten . This is the best source for more details on what Leonard has gone through over the past several months and additional information. It's also a great way to send condolences virtually. All messages and cards sent to the office will be passed on to Nick and Paula. In lieu of flowers, the family asks that donations be sent to the Florida Dental Association Foundation in honor of Dr. Leonard Britten. Donations can be mailed to 545 John Knox Road, Tallahassee, FL 32303 or made online at donate.floridadental.org (General Donation). Memorial gifts will support one of Leonard's favorite causes, the Florida Mission of Mercy, a charitable dental clinic.
~The Britten Dental girls: Christy, Kathryn, Jen, Shelly, Lori Anne and Saige
Click on the link below to listen to "The Ballad of Leonard," a song written for the Britten family from the Britten Dental girls!
Dental Honors and Organizations
Past Vice Chairman – Florida Board of Dentistry
Lifetime Achievement Award – Hillsborough County Dental Association
Past President - Hillsborough County Dental Association
Past Vice President - West Coast Dental Association
American College of Dentists
International College of Dentists
Pierre Fuchard Academy
Florida Dental Association
American Dental Association
Past President - Hillsborough County Dental Research Clinic
Florida Academy of Dental Practice Administration